The other day was my birthday. The day also marked the 6 month mark till our wedding day and I am surprisingly relaxed about the whole thing! I know I will no doubt get stressed about a few things closer to the day and there will be some last minute rushing around, but at the moment everything is going swimmingly! Mark and I are very lucky to have had some major things ticked off very early in our wedding planning journey!
Before we had even met, I attended a wedding at a family friend's estate in the Blue Mountains. The place called 'Fjellheim' (Norwegian for mountain home) has the most beautiful garden surrounding a lovely old house, and I spent many weekends there when I was growing up. The wedding was absolutely beautiful, relaxed and stylish and I remember thinking to myself that, one day when it comes time I would love to get married somewhere like this. In a lovely relaxed atmosphere in a place special to me and my family and friends.
A sneak peak of our venue! The gorgeous gardens at Fjellheim estate.
So when we did get engaged, we were trying to figure out where we wanted to get married and Fjellheim came up as an option. Lucky for us after asking the Scandrett family, who own the estate, if it was alright for us to get married there they were more than happy to let us! I am so excited to be getting married in the gorgeous garden and getting ready in the house that I have so many memories in. Also to be getting married so close to where I grew up. Living in another country makes me miss home so much, so again it is going to be an extra special day!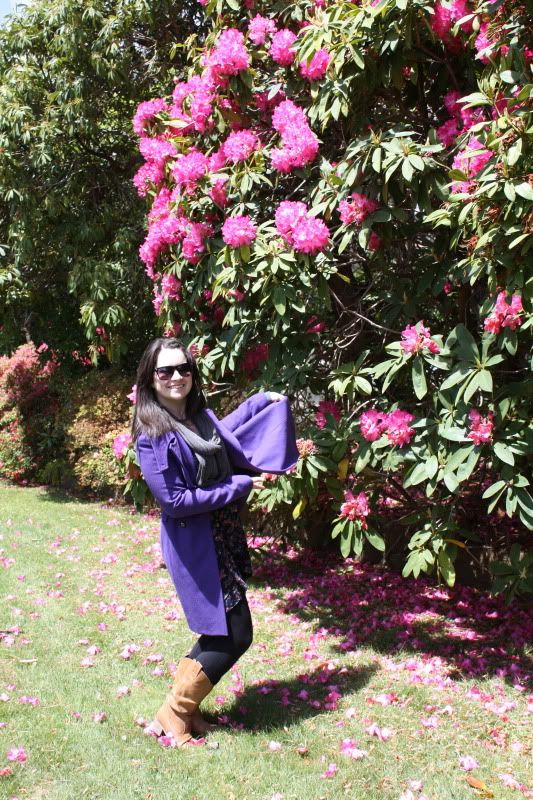 My sister Elena in the garden … I'm not entirely sure what she is doing with her jacket …!
Lucky for me, my family have been doing so much work from Oz! My Mum, Sister and Auntie have got all the decorations and cakes covered and my dad is an amazing googler!! After getting a quote on a marquee my dad did some digging on the net and found a site where you can buy the exact one he was going to hire for $300 less … So my family are now the proud owners of a nice new white marquee! I am not entirely sure what we are going to do with it after the wedding mind you!
So, one big thing down and many many more things to go.
I probably speak for a lot of brides when I say the list of things to do is very overwhelming … but currently I'm only just a little bit whelmed!
And on a cute note … I have been collecting wedding magazines since we got engaged. Mark says I'm a little bit obsessed with them, but I figure I should get them while I can! My puppy Kiwi has been helping me sort through the endless pages and ideas that I want to use!
Kiwi studying the possible hairstyles I could have on the big day!
Photos from Katie and Mark's collection.
Ms Gingham says: It's so lovely when family get involved in planning a wedding. It really makes them feel like they're a part of the day. What would Katie do without Kiwi's help and moral support!
Katie says: Hi my name is Katie and I am 25 years old. I was born in Sydney, Australia, and now live in Christchurch, New Zealand with my fiance Mark (who is also from Australia). I am currently planning our wedding from New Zealand with the help of family and friends back in Aus. Our wedding will be held at a family friends estate in Wentworth Falls, Blue Mountains on November 19, 2011!
Read Katie's engagement story here.